Reduce risk. Stay safe. Stick to the spec.
Building contractors always feel the pressure to bring a job in, on, or under, budget. Choosing cheaper untested products may save the client money, but if a fire breaks out it will cost far more in lives and property. Our advice for all contractors is very straightforward: stay safe, save lives and stick to the specification. Value engineering brings with it a whole set of new risks when it comes to fire safety, for contractors and clients alike. This is one of those areas where sticking to specification, and using only third-party certificated fire doors and components, will actually reduce risk and costs for the construction industry.
By compromising the original specification in any way, a fire door installation risks catastrophic failure in the event of a fire.
There are four major areas where contractors and their clients may be most vulnerable:
Non-compliance with Building Regulations: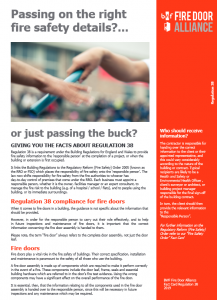 Not all 'fire doors' satisfy the Building Regulations in the way they may have used to do.  Where a building is erected or extended, or has undergone a material change of use, and the Regulatory Reform (Fire Safety) Order applies to that building or extension, Regulation 38 of the Building Regulations now requires that a package of fire safety information – 'as built' information which records the fire safety design of the building or extension – must be assembled and given to the person responsible for the premises.
This information should include all fire safety design measures in appropriate detail and with sufficient accuracy to provide both guidance and help to the client operate and to maintain the building in reasonable safety, and is likely to include certificates covering fire doors and components. Download the Regulation 38 fact sheet.
Non-compliance with the RRO:
Everyone involved in the life of a fire door, from its specification to maintaining it in use, is responsible for that product and its role in protecting property and saving lives. But increasingly it is the client, the building owner, who is suffering the punitive fines and even jail terms for non-compliance with the Regulatory Reform (Fire Safety) Order, commonly known as the RRO. Installing third-party certificated products, and then ensuring regular maintenance checks by a qualified fire door inspector, is the simplest route to ensure compliance with the RRO.
Understand 'Your Responsibilities' here.
Lack of adequate insurance protection:
Fire losses in the UK now run to £3.4m per day. Unsurprisingly, there is increasing scrutiny on building elements like fire doors by insurers, brokers, surveyors and loss adjustors.  Leading insurers follow the advice of fire risk experts at RISCAuthority who now require all fire protection products to be third-party certificated and installed by adequately trained specialist installers. Clients are well advised to follow this advice too, in order to ensure adequate insurance protection and more affordable premiums.
Insufficient protection for life or property:
It is important to remember the simple fact that fire doors are installed to save lives.
Diligent fire door manufacturers within the BWF Fire Door Alliance Scheme work hard to design and test their products to ensure they perform in a highly specific way during a fire. Key to this point is that a fire door is not simply comprised of the door itself, but includes the associated ironmongery, windows, frame and seals. Any small change to any single component within this setup will impact upon the door's performance.
Attempt to save costs by fitting a fire door to an un-specified frame or to replace the ironmongery, for example, and the fire door will no longer be either compliant or fit-for-purpose.
How safe are YOUR fire doors? Watch this video to find out.